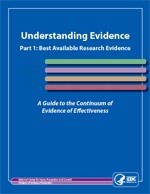 The Centers for Disease Control and Prevention has released a new report Understanding Evidence: Part 1: Best Available Research Evidence.  Subtitled A Guide to the Continuum of Evidence of Effectiveness, this publication provides guidance on how to understand  the different types of evidence about prevention strategies.
While the focus of this report is on research, I like the way this report acknowledges that research is only one type of evidence used for violence prevention work. The report states
Literature suggest that two other forms of evidence are also very important when making decisions based on evidence:

Experiential Evidence: This type of evidence is based on th professional insight, understanding, skill, and expertise that is accumulated over time and is often referred to as intuitive or tacit knowledge.
Contextual Evidence: This type of evidence is based on factors that address whether a strategy is useful, feasible to implement, and accepted by a particular community.
Check out all of the great charts on effectiveness and strength of evidence.
Click here to get this report.
Do you find this report helpful for how you will approach violence prevention evidence?

David S. Lee, MPH, is the Director of Prevention Services at the California Coalition Against Sexual Assault where he provides training and technical assistance on prevention. David manages the national project PreventConnect, an online community of violence against women prevention practitioners, funders, researchers and activists. For over 27 years David has worked in efforts to end domestic violence and sexual assault.