Idaho Summit on Sexual Violence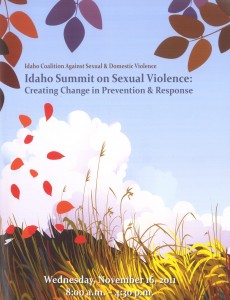 This week I had the opportunity to speak at the Idaho Coalition Against Sexual & Domestic Violence's Summit on Sexual Violence. Over 800 people attended this event to highlight creating change in prevention and response to sexual violence. It was an impressive gathering of representatives of rape crisis centers, social services, criminal justice and education gathered to learn how each can contribute to addressing and preventing sexual violence in Idaho. Keynote speakers included David Lisak speaking about the undetected rapist and Dorothy Edwards on "ending violence one Green Dot at a time." I was tweeting highlights from this summit with the hashtag #IdahoSummit.
On the night before the summit, I spoke to the Idaho Coalition's membership on the topic "Primary Prevention of Violence: Using Social and Traditional Media to promote Social Change." Given the headlines of the day, I used the example of the traditional media and social media responses to Penn State's sexual abuse scandal. I reviewed how the media has framed this issue (borrowing from the analysis from the Berkeley Media Studies Group recent report on news coverage of child sexual abuse). I also examined how advocates have responded in press releases, e-newsletters and social media. I recommended that as advocates we had to go beyond describing the horrors of victimization. We need to propose solutions – in particular policy and prevention solutions.
Below are the handouts from my presentations: