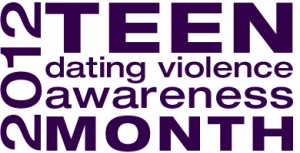 Today marks the beginning of Teen Dating Violence Awareness and Prevention Month.  In February, there will be activities throughout the country addressing violence in young people's relationships.  I appreciate that this month is not only about awareness, but includes a focus on prevention.  This is a time to take action.  During this month there will be rallies, forums, media campaigns and flash mobs to mobilize young people to prevent teen dating violence.
In his Presidential Proclamation on National Teen Dating Violence Awareness and Prevention Month, 2012, President Obama said
     Reducing violence against teens and young adults is an important task for all of us.  This month, we renew our commitment to breaking the silence about dating abuse and fostering a culture of respect in our neighborhoods, our schools, and our homes.
Check out some of PreventConnect's archived materials about teen dating violence, including

David S. Lee, MPH, is the Director of Prevention Services at the California Coalition Against Sexual Assault where he provides training and technical assistance on prevention. David manages the national project PreventConnect, an online community of violence against women prevention practitioners, funders, researchers and activists. For over 27 years David has worked in efforts to end domestic violence and sexual assault.