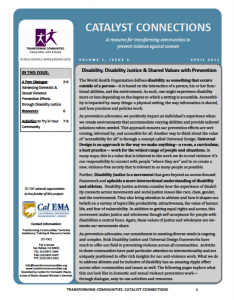 Transforming Communities has released its newest edition of its newsletter Catalyst Connections titled Disability, Disability Justice & Shared Values with Prevention.  This newsletter raises many important issues for domestic violence and sexual violence prevention:
As prevention advocates, our commitment to meeting diverse needs is ongoing and complex. Both Disability Justice and Universal Design frameworks have much to offer our field in preventing violence across all communities. Activists in these communities have paid particular attention to intersectionality and are uniquely positioned to offer rich insights for our anti-violence work. What we do to address ableism and be inclusive of disability has an amazing ripple effect across other communities and issues as well.
Articles include a A Peer Dialogue on "Advancing Domestic & Sexual Violence Prevention Efforts through Disability Justice,"  two sample activities, resources and a note on language.  I recommend you check this out.

David S. Lee, MPH, is the Director of Prevention Services at the California Coalition Against Sexual Assault where he provides training and technical assistance on prevention. David manages the national project PreventConnect, an online community of violence against women prevention practitioners, funders, researchers and activists. For over 27 years David has worked in efforts to end domestic violence and sexual assault.