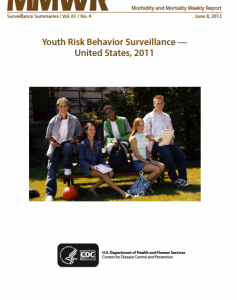 The Centers for Disease Control and Prevention has released the 2011 findings from the Youth Behavior Risk Surveillance System (YRBSS).  This survey asks about a wide range of health issues including dating violence and sexual violence. During the 12 months before the survey, 9.4% of students nationwide had been hit, slapped, or physically hurt on purpose by their boyfriend or girlfriend and 8% of students had ever been physically forced to have sexual intercourse when they did not want to.  The research actually breaks out rates for each grade showing how victimization rates increase each year pointing to a need to provide prevention activities earlier.
You can find the full findings here.
How does this data inform how we will do our prevention work?

David S. Lee, MPH, is the Director of Prevention Services at the California Coalition Against Sexual Assault where he provides training and technical assistance on prevention. David manages the national project PreventConnect, an online community of violence against women prevention practitioners, funders, researchers and activists. For over 27 years David has worked in efforts to end domestic violence and sexual assault.