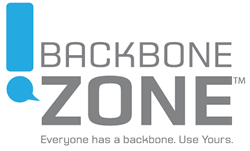 In July our interview with Drew Wing told you about  a new campaign from the Maine Coalition Against Sexual Assault (MECASA), in partnership with Boys to Men.  Just released, Backbone Zone!  focuses on bystander intervention. From the site:
Everybody has a backbone. The Backbone Zone is a project to help students find theirs, and to give them tools to confront gender-bullying, sexual harassment, and sexist and homophobic language when they see and hear it.
Check out the campaign posters and other materials on the Backbone Zone! website.
For more information about bystander approaches to the prevention of sexual and domestic violence, complete the eLearning course, visit our wiki page, and listen to a recording of our most recent web conference on bystander approaches.

Ashley Maier, MSW, MPA, has worked in the movement to end gendered violence for well over a decade. She began as a volunteer at a domestic violence shelter in Illinois, served as a hospital-based advocate in St. Louis, coordinated community health/family violence training programs for pediatric residents in St. Louis and San Diego, and managed Oregon's Rape Prevention and Education (RPE) grantees and program. Ashley is a contributing author to Lantern Book's 2013 publication, Defiant Daughters: 21 Women on Art, Activism, Animals, and The Sexual Politics of Meat and is creator of the 2015 book, Circles of Compassion: Connecting Issues of Justice.