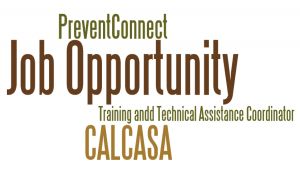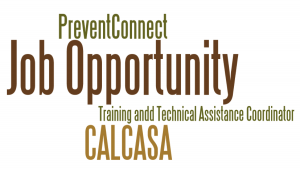 The California Coalition Against Sexual Assault is looking for someone to join our prevention team. Projects include providing training and technical assistance to California's Rape Prevention & Education grantees, researching for and developing resources for the national PreventConnect online community and working on the National Sexual Assault Conference to be held August 28-30, 2013 in Hollywood, California.
CALCASA is hiring for a new Training and Technical Assistance Coordinator based in our Sacramento office. Please submit a letter of interest, resume and three references by March 22, 2013. Click here for the full job description and instructions on how to apply.
This is a great opportunity to be part of a team dedicated to advancing prevention in California and the nation.

David S. Lee, MPH, is the Director of Prevention Services at the California Coalition Against Sexual Assault where he provides training and technical assistance on prevention. David manages the national project PreventConnect, an online community of violence against women prevention practitioners, funders, researchers and activists. For over 27 years David has worked in efforts to end domestic violence and sexual assault.