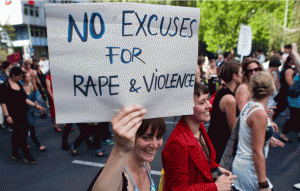 Thanks to  The Nation for its "Ten Things You Can Do" list for preventing rape.  Activists Eesha Pandit, Jaclyn Friedman, filmmaker Nuala Cabral and The Nation's Jessica Valenti put together this list of actions.  As they write:
It is not enough to bring individual perpetrators of rape and sexual violence to justice.  Since the problem lies in a culture that is entertained by degrading acts and images of women, the solution is to look at the individual acts as a symptom of rape culture and solve it holistically.  We all have a part to play in allowing rape culture to exist—so, we can all do something to eradicate it.
Here is the Ten Things to End Rape Culture list:
Name the real problems: Violent masculinity and victim-blaming.
Re-examine and re-imagine masculinity.
Get enthusiastic about enthusiastic consent.
Speak up for what you really really want.
Get media literate.
Globalize your awareness of rape culture.
Know your history
Take an intersectional approach
Practice real politics.
Lobby your community.
And they added two additional actions:
Don't laugh at rape.
Tell your story.
Check out the full article to see more details.
What are you going to do to end rape?
Photo: Markus Schreiber from The Nation

David S. Lee, MPH, is the Director of Prevention Services at the California Coalition Against Sexual Assault where he provides training and technical assistance on prevention. David manages the national project PreventConnect, an online community of violence against women prevention practitioners, funders, researchers and activists. For over 27 years David has worked in efforts to end domestic violence and sexual assault.