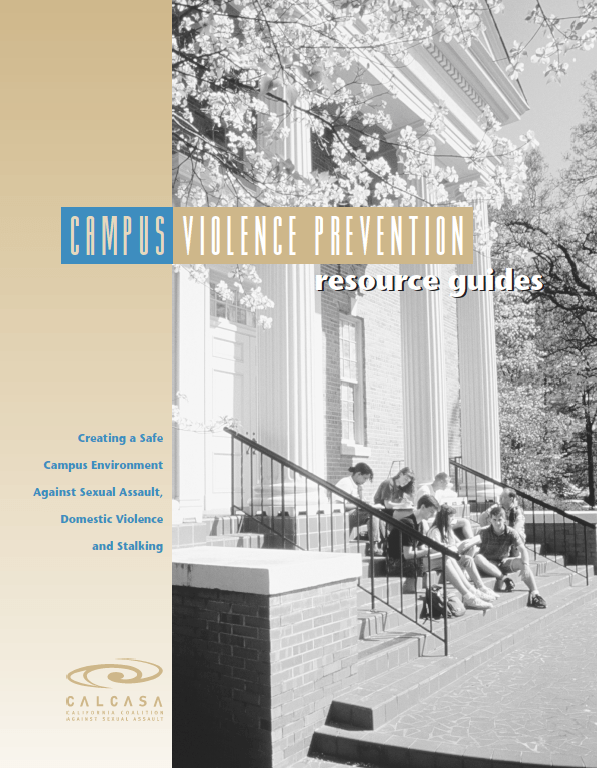 Now available online, the Campus Violence Prevention Resource Guides were developed by the California Coalition Against Sexual Assault (CALCASA), with funding from the Grants to Reduce Violent Crimes Against Women on Campus Program through the U.S. Department of Justice, Office of Justice Programs, Violence Against Women Office. The guides are designed to help colleges and universities implement and maintain violence prevention educational programs and effective policies and procedures in response to violence against women on campus, including sexual assault, domestic violence, dating violence, and stalking, and to improve campus services for victims and survivors of campus violence.  Click on the links below to download the resource guides.
CALCASA Campus Violence Prevention Resource Guide
–deans
–faculty
–greeks
–health
–judicial
–law enforcement
–peer
–president
–resident
–student government

Ashley Maier, MSW, MPA, has worked in the movement to end gendered violence for well over a decade. She began as a volunteer at a domestic violence shelter in Illinois, served as a hospital-based advocate in St. Louis, coordinated community health/family violence training programs for pediatric residents in St. Louis and San Diego, and managed Oregon's Rape Prevention and Education (RPE) grantees and program. Ashley is a contributing author to Lantern Book's 2013 publication, Defiant Daughters: 21 Women on Art, Activism, Animals, and The Sexual Politics of Meat and is creator of the 2015 book, Circles of Compassion: Connecting Issues of Justice.