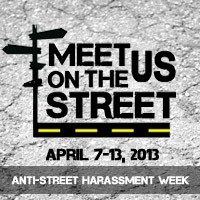 April 7-13 is International Anti-Street Harassment Week 2013.  Join the over 140 organizations from over 20 countries who are taking action to end street harassment.  This year promises to build on the success from Anti-Street harassment Week 2012.
From people who shared stories about their first harassment experiences on twitter (#EndSHWeek) to sidewalk chalking in several cities to sharing images on social media, today many groups and people held important conversations about street harassment in our communities and with our friends.
The growing attention to ending street harassment demonstrates how grassroots activism is changing culture.  By demonstrating an intolerance toward actions on the street and encouraging people to be active bystanders to interrupt street harassment, we are also create new norms that can prevent sexual violence and domestic violence.
For an example of creative work check out the video "Things Men Say to Men Who Say Things to Women on the Streets" that won the Centers for Disease Control and Prevention' sNational Center on Injury Control and Prevention  Seeing My World through a Safer Lens Video Contest.

David S. Lee, MPH, is the Director of Prevention Services at the California Coalition Against Sexual Assault where he provides training and technical assistance on prevention. David manages the national project PreventConnect, an online community of violence against women prevention practitioners, funders, researchers and activists. For over 27 years David has worked in efforts to end domestic violence and sexual assault.