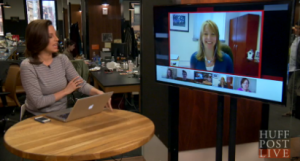 At the end of April, Huffington Post Live hosted College Week, a week to discuss all of the hot topics related to colleges.  What can we do about the rising cost of college? Can college dropouts still get good jobs?  How can we combat rape culture on college campuses?
WAIT A MINUTE.
Rape culture?  Yes, Huffington Post Live, prompted by several recent high profile cases of sexual assault on college campuses, dedicated a full segment to the issue during College Week.  Featuring two students activists, a representative from the Pennsylvania Coalition Against Rape (PCAR), and a faculty member from Rutgers, the segment was remarkable in that it went beyond a typical presentation of incidents that have occurred.  Instead, it framed the issues as environmental and, most of all, preventable.  As PCAR's Kristen Houser offered:
[Sexual assault prevention] needs to be a number one priority in terms of creating an environment where learning and graduation are going to be successful goals and outcomes for students.
Watch the conversation continue here or below.


Ashley Maier, MSW, MPA, has worked in the movement to end gendered violence for well over a decade. She began as a volunteer at a domestic violence shelter in Illinois, served as a hospital-based advocate in St. Louis, coordinated community health/family violence training programs for pediatric residents in St. Louis and San Diego, and managed Oregon's Rape Prevention and Education (RPE) grantees and program. Ashley is a contributing author to Lantern Book's 2013 publication, Defiant Daughters: 21 Women on Art, Activism, Animals, and The Sexual Politics of Meat and is creator of the 2015 book, Circles of Compassion: Connecting Issues of Justice.