#WhereIAmMe social media campaign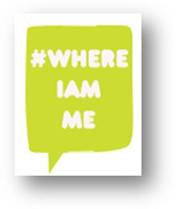 That's Not Cool Ambassador Jessica Chan-Ugalde and Futures Without Violence's Sara Pritchard describe the new #WhereIAmMe social media campaign. This campaign invites teens to reflect on and share their answers to the question Where do you feel like you can be yourself?. Using the hashtag #WhereIAmMe, teens can upload photos of the places in their communities where they feel comfortable being themselves and share them across social networking sites such as Facebook, Twitter, Google+, Tumblr, and Instagram. The campaign can be shared teens in teen dating violence prevention efforts. The discussion guide can facilitate conversations about building safe and healthy communities.
The #WhereIAmMe discussion guide provides examples how prevention practitioners can include this campaign in their work with youth.
That's Not Cool has been featured in this previous PreventConnect web conference.
[display_podcast]