Yesterday eighteen Community Actions teams gathered at the Japanese Cultural Center in Honolulu to reinvigorate, energize, and inspire their efforts to prevent sexual violence in Hawaii.  My colleague Ashley Maier and I had the privilege to facilitate the session. With over 100 people from all of the Hawaiian Islands I was reinvigorated, energized and inspired.  In addition to teams from the Islands, there were teams working with the military, LGBT, Higher Education and a group dedicated to promoting safer bars.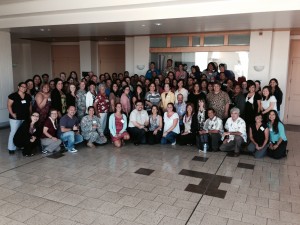 We started the day by developing asset maps of each community identifying opportunities and potential partners to advance the work to prevent sexual violence. Then Ashley and I presented what we have identified as the leading trends in sexual violence prevention (you can see details in our handouts for the session.) Then we spent the afternoon dedicated to developing and refining action plans for each team.
Mahalo to all of our partners in sexual violence prevention from Hawaii.

David S. Lee, MPH, is the Director of Prevention Services at the California Coalition Against Sexual Assault where he provides training and technical assistance on prevention. David manages the national project PreventConnect, an online community of violence against women prevention practitioners, funders, researchers and activists. For over 27 years David has worked in efforts to end domestic violence and sexual assault.