Poised for Prevention: U.S. Sexual and Domestic Violence Policy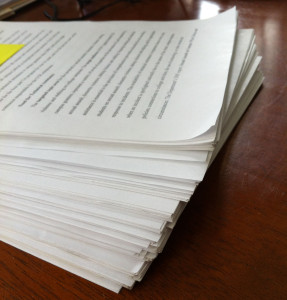 Policy is an important component of any comprehensive effort to prevent sexual and domestic violence.  Yet when I talk to experts about the state of sexual and domestic violence prevention policy in the U.S., I overwhelmingly hear, "It's really hard to tell," and "We're not very far."  So, I recently set out to explore the situation, researching and writing a paper about the issue for a for a social policy course.  Overall, I found that while U.S. sexual and domestic violence policy has a long way to go, it is poised for prevention.
My main findings:
2 main advocacy coalitions

Feminists, of course, led the way by initiating a policy response to sexual and domestic violence.  They created social sanctions for sexual and domestic violence and a policy subsystem where one did not already exist.  Then public health practitioners joined the policy arena, prompted by U.S. Surgeon General  C. Everett Koop, whose advocacy for violence as a public health issue was both instrumental and, arguably, ahead of his time. Koop essentially declared violence a public health issue in an unprecedented workshop in 1985.  This began a gradual shift towards primary prevention in the movement to end violence against women, and towards addressing sexual and domestic violence in public health, that slowly impacted and shaped policy.

4 main policies

Early laws making violence against women illegal (pre 1980s) set the stage for future policy efforts.  They were the first to bring the law into the home, to address what was seen as "private issues" of violence, and served as social control against violence against women.
The first federal policy addressing domestic violence, Family Violence Prevention and Services Act (FVPSA) passed as part of the Child Abuse Prevention and Treatment Act (CAPTA) of 1984.  In the 2000's, FVPSA allowed for one of the first federal domestic violence prevention programs, the Centers for Disease Control and Prevention's (CDC) Designing and Enhancing Leadership Through Alliances (DELTA) project.
Reauthorized several times since initial passage in 1993, the Violence Against Women Act (1993) has been given the highest effectiveness ranking by the Office of Management and Budget.  Amongst its many accomplishments, VAWA established the Rape Prevention and Education Program (RPE).  Today's VAWA includes several more provisions for prevention than VAWA of past years.
As evidenced by recent state laws addressing sexual and domestic violence prevention, states are quickly becoming leaders in efforts to support primary prevention of sexual and domestic violence through policy.  According to the National Conference of State Legislatures, for example, today at least 19 states have laws related to the prevention of teen dating violence, and undoubtedly many more are underway.

Social construction of impacted groups

In accepting sexual and domestic violence as part of the policy arena, policymakers sent a very specific message to women and to the public – women do not deserve violence and it is the duty of policymakers to address it.  As public health entered the picture, the message expanded to include all people, the entire population.  This opened the door for groups advocating for men, children, and other groups to promote their rights as policy targets and to seek messages about their worth in regards to sexual and domestic violence.
Today's sexual and domestic violence primary prevention policy arena is made up of state and national policies and actors, newer policies, older policies, and ever-changing policies – a complex, mutli-level, and evolving picture with many players and implications.  So, the experts were right, it can be hard to tell where we are regarding prevention policy progress.  While this is a brief review of the policy arena, it is clear that slowly and surely, we have come a long way.  U.S. sexual and domestic violence policy is ready to move further along the prevention path; it is poised for prevention.
Click here for a list of sources used in the full paper.
2 responses to "Poised for Prevention: U.S. Sexual and Domestic Violence Policy"