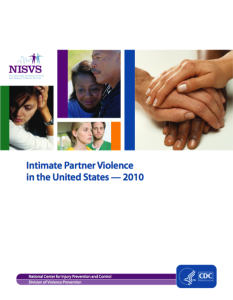 Today the Centers for Disease Control and Prevention has released a new report titled Intimate Partner Violence in the United States — 2010 which highlights how pervasive intimate violence is in our country.  This data from the  National Intimate Partner and Sexual Violence Survey (NISVS) provides information about the context of victimization experiences (though it does not have much information about the perpetrators of sexual violence, domestic violence and stalking.)
Here are several key findings as identified by the National Network to End Domestic Violence:
Women and men who experienced food insecurity or housing insecurity in the past 12 months had a significantly higher 12-month prevalence of rape, physical violence, or stalking by an intimate partner compared to women and men who did not experience food insecurity or housing insecurity.
51.5% of the victims who identified a need for housing services did not receive them.
1 in 10 women and nearly 1 in 25 men who have experienced rape, physical violence, or stalking by an intimate partner, missed work or school as a result of intimate partner violence.
Individuals with lower incomes are disproportionately affected by intimate partner violence.
The report has important implications for prevention efforts. Fir examples, the report suggests the need for efforts to prevent intimate partner violence especially starting prevention efforts early.
This report suggests that IPV victimization begins at an early age with nearly 70% of female victims and nearly 54% of male victims having experienced IPV prior to age 25. This suggests that primary prevention of IPV must begin at an early age. CDC's approach to primary prevention of IPV is the promotion of healthy relationship behaviors among young people, with the goal of reaching adolescents prior to their first relationships. By influencing relationship behaviors and patterns early through dating violence prevention programs, it is possible to promote healthy relationship behaviors and patterns that can be carried forward into adulthood.
In March 2104, PreventConnect will host a web conference to review this study in greater detail. Check out recordings of these PreventConnect web conferences about NISVS where you can hear from the researchers and advocates discussing the implications of the findings of previous versions of the report:

David S. Lee, MPH, is the Director of Prevention Services at the California Coalition Against Sexual Assault where he provides training and technical assistance on prevention. David manages the national project PreventConnect, an online community of violence against women prevention practitioners, funders, researchers and activists. For over 27 years David has worked in efforts to end domestic violence and sexual assault.