Utilizing Volunteers in Prevention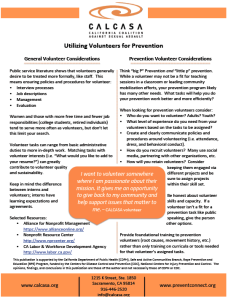 Last month, I facilitated a call about utilizing volunteers for prevention.  While this was a state-specific call, it aligns with requests I receive and conversations I have in the prevention realm nationwide.  We all know that when it comes to social justice, there is too much work, just too much, that we need to do.  Yet, unwavering, we're committed to getting it done.  And that's where volunteers come in.  So often, we rely on community members to donate their time and energy to help mobilization efforts.  Frequently, students help us do research and put publications together.  And so much more.  We cannot do this work alone, so it stands to reason that there is a great interest in how to recruit, engage, and sustain volunteers for sexual and domestic violence prevention.
As part of last month's call, I created this Utilizing Volunteers for Prevention one-pager.*  I offer it here as a simple resource that, though created for California's prevention programs, can apply to all.  As I said in my blog post about the call:
I was impressed by the vast knowledge and experience the many call participants shared regarding utilizing volunteers for prevention – volunteers are an absolutely indispensable resource and it's imperative that we continue to learn from each other about how best to engage and sustain them.
Download the document here.  What resources do you use when it comes to engaging volunteers in sexual and domestic violence prevention?  Please share in the comments section below!
*This document is a combination of information from PreventConnect/CALCASA's Leona Smith Di Faustino, Sari Lipsett, and Ashley Maier.