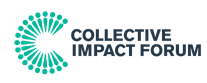 We know that the PreventConnect audience loves the idea of collective impact.  In fact, my blog post on collective impact continues to be one of this site's most popular.  As preventionists, we are, after all, looking to make the strongest impact possible.  We want change!  Lucky for us, the Collective Impact Forum recently launched.  As the site says:
This is the place for those practicing collective impact to find the tools, resources, and advice they need. It's a network of individuals coming together to share experience and knowledge to accelerate the effectiveness and adoption of collective impact.
Divided into three virtual communities, the site allows you to select the role that is most relevant to you, tailoring resources and assistance to meet your specific needs.  So go forth and explore!  Let's make the strongest, most effective change possible through our work to prevent sexual and domestic violence.

Ashley Maier, MSW, MPA, has worked in the movement to end gendered violence for well over a decade. She began as a volunteer at a domestic violence shelter in Illinois, served as a hospital-based advocate in St. Louis, coordinated community health/family violence training programs for pediatric residents in St. Louis and San Diego, and managed Oregon's Rape Prevention and Education (RPE) grantees and program. Ashley is a contributing author to Lantern Book's 2013 publication, Defiant Daughters: 21 Women on Art, Activism, Animals, and The Sexual Politics of Meat and is creator of the 2015 book, Circles of Compassion: Connecting Issues of Justice.