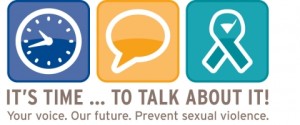 Today begins Sexual Assault Awareness Month. Here at PreventConnect we recognize that we need to go beyond awareness to prevent sexual violence. In his 2014 Presidential Proclamation, President Obama said "This month, let us recognize that we all have a stake in preventing sexual assault, and we all have the power to make a difference. Together, let us stand for dignity and respect, strengthen the fabric of our communities, and build a safer, more just world."
What are you doing to prevent sexual violence? Join us today at 11am PT (2pm ET) for a #TalkAboutIt Twitter Chat with the National Sexual Violence Resource Center and Stop Street Harassment.

David S. Lee, MPH, is the Director of Prevention Services at the California Coalition Against Sexual Assault where he provides training and technical assistance on prevention. David manages the national project PreventConnect, an online community of violence against women prevention practitioners, funders, researchers and activists. For over 27 years David has worked in efforts to end domestic violence and sexual assault.