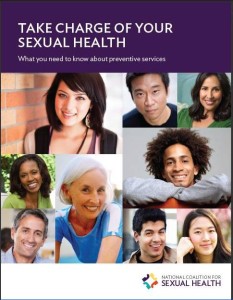 The National Coalition for Sexual Health (NCSH) just issued a call-to-action regarding sexual health in America, officially launching a new guide and website.  As a member of the coalition, we first shared the guide last month, Taking Charge of Your Sexual Health: What you need to know about preventive services. Today, the call to action kicks off with a HuffPo Live segment, Taking Charge Of Your Sexual Health—How Preventive Services Can Protect Your Health at 10:25 a.m. ET.   Read last month's blog post to learn more about the guide and how sexual health promotion is related to sexual violence prevention.
The National Coalition for Sexual Health (NCSH) is a group of nearly 40 leading national health, medical, and consumer organizations working together to improve sexual health and well-being across the lifespan. The Coalition also includes individuals who are dedicated to improving the state of sexual health in America. NCSH is managed by Partnership for Prevention, a non-profit public health organization that is dedicated to making disease prevention and health promotion a national priority.

Ashley Maier, MSW, MPA, has worked in the movement to end gendered violence for well over a decade. She began as a volunteer at a domestic violence shelter in Illinois, served as a hospital-based advocate in St. Louis, coordinated community health/family violence training programs for pediatric residents in St. Louis and San Diego, and managed Oregon's Rape Prevention and Education (RPE) grantees and program. Ashley is a contributing author to Lantern Book's 2013 publication, Defiant Daughters: 21 Women on Art, Activism, Animals, and The Sexual Politics of Meat and is creator of the 2015 book, Circles of Compassion: Connecting Issues of Justice.