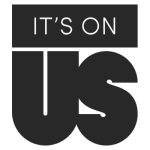 "It's on us to stop sexual assault," John Hamm states in the latest White House campaign to engage the public in ending sexual violence.  "Get in the way before it happens," Kerry Washington urges viewers in the campaign video, echoing its anthem:
Don't be the person who stands by and does nothing. It's on us to stop sexual assault before it starts. It's on us. All of us. Take the pledge to be part of the solution.
It's On Us is the latest effort to come from the White House that demonstrates this administration's commitment to a comprehensive approach to addressing sexual violence. The campaign offers a website with a pledge, videos, and tools to assist in community engagement efforts. Moreover, it sends a clear message – everyone is responsible for ending sexual violence.
Follow the #itsonus discussion on Twitter and learn more at itsonus.org.

Ashley Maier, MSW, MPA, has worked in the movement to end gendered violence for well over a decade. She began as a volunteer at a domestic violence shelter in Illinois, served as a hospital-based advocate in St. Louis, coordinated community health/family violence training programs for pediatric residents in St. Louis and San Diego, and managed Oregon's Rape Prevention and Education (RPE) grantees and program. Ashley is a contributing author to Lantern Book's 2013 publication, Defiant Daughters: 21 Women on Art, Activism, Animals, and The Sexual Politics of Meat and is creator of the 2015 book, Circles of Compassion: Connecting Issues of Justice.