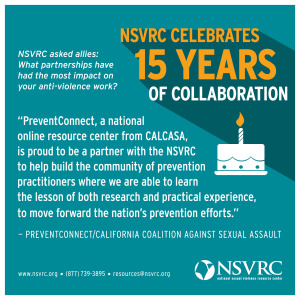 All of us at PreventConnect, a national project of the California Coalition Against Sexual Assault, see the National Sexual Violence Resource Center (NSVRC)  as a vital partner and national resource in the movement to prevent sexual violence.  Now in their 15th year, NSVRC provides a national collection of great resources and materials.  My first day on the job ten years ago was spent traveling to Pennsylvania in order to meet with my partners at the NSVRC and VAWNet.  And since 2010 CALCASA has shared hosting the National Sexual Assault Conference with NSVRC.
I look forward to continuing this partnership and encourage everyone to check out the great resources at  the NSVRC.

David S. Lee, MPH, is the Director of Prevention Services at the California Coalition Against Sexual Assault where he provides training and technical assistance on prevention. David manages the national project PreventConnect, an online community of violence against women prevention practitioners, funders, researchers and activists. For over 27 years David has worked in efforts to end domestic violence and sexual assault.