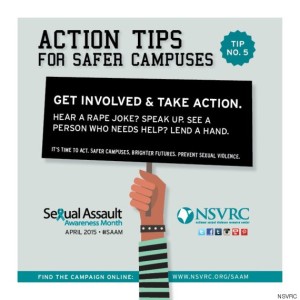 For Sexual Assault Awareness Month, the National Sexual Violence Resource Center released eight tips on how everyone can take action to create safer campuses. In a blog post yesterday on the Huffington Post, each of the eight tips include a graphic illustrating the time.
Challenge victim-blaming
Ask for consent
Think critically and speak up
Say no to gender stereotypes
Get involved and take action
Confront racism and oppression
Work together
Know your rights
What action are you going to take to prevent sexual violence?

David S. Lee, MPH, is the Director of Prevention Services at the California Coalition Against Sexual Assault where he provides training and technical assistance on prevention. David manages the national project PreventConnect, an online community of violence against women prevention practitioners, funders, researchers and activists. For over 27 years David has worked in efforts to end domestic violence and sexual assault.