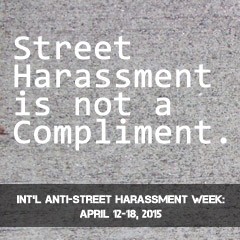 Today starts Meet Us On the Street: International Anti-Street Harassment Week. Join activists from 35 countries as they rally, march, and hold workshops, tweet chats, wheatpasting and chalkwalks to bring attention to this problem and engage their communities in solutions.
(For those who do not know, wheatpasting is a form of guerrilla street art.)
This week is part of Sexual Assault Awareness Month. In our work to prevent sexual violence, it is important to recognize street harassment as a part of the continuum of behaviors that builds and reinforces rape culture.  By working to prevent street harassment, we will make our communities and environments safer for all.
What are you going to do to end street harassment?

David S. Lee, MPH, is the Director of Prevention Services at the California Coalition Against Sexual Assault where he provides training and technical assistance on prevention. David manages the national project PreventConnect, an online community of violence against women prevention practitioners, funders, researchers and activists. For over 27 years David has worked in efforts to end domestic violence and sexual assault.