Last month, Prevention Institute's Annie Lyles and I presented a workshop at Futures Without Violence's National Conference on Health and Domestic Violence. We were happy to see a full room of people committed to building community-centered prevention.
The title of our presentation, "Growing Our Impact: Moving from individual awareness building to community norms change strategies as a part of domestic and sexual prevention efforts," is a mouthful; and it does describe how we need to find ways to create change on the community level if we ever expect to create a world without domestic violence and sexual assault.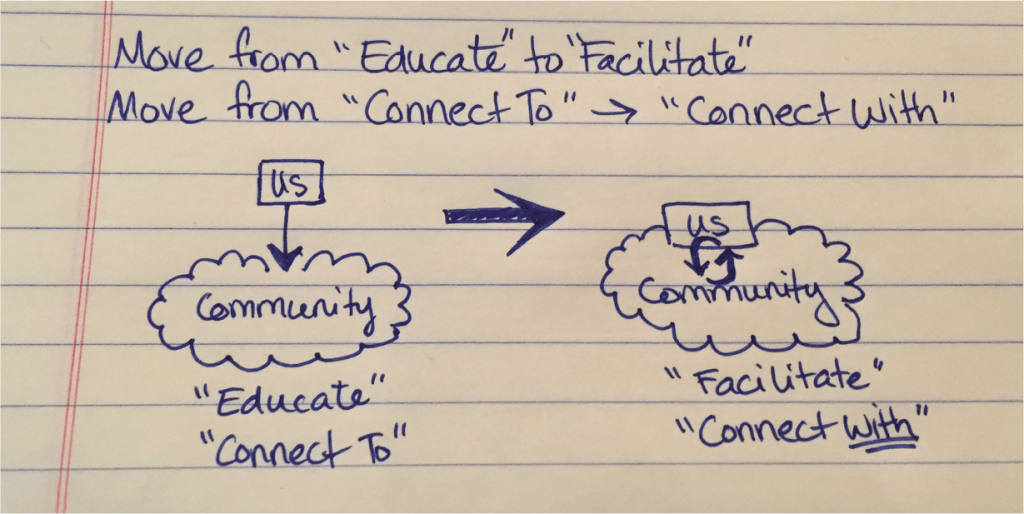 At the end of the workshop, Sarah DeCosta of the Elizabeth Buffum Chace Center in Rhode Island (whom I have met through PreventConnect web conferences and Peer Learning Forums), show me her notes summarizing how she saw this shift to community-level thinking.  Thanks to Sarah for showing in one graphic the shift from individual (by connecting to and educating) to community (by connecting with and facilitating).  This is a graphic that I will use for future trainings (including this week in New York.)
Here are the slides for the presentation at the National Conference on Health and Domestic Violence.

David S. Lee, MPH, is the Director of Prevention Services at the California Coalition Against Sexual Assault where he provides training and technical assistance on prevention. David manages the national project PreventConnect, an online community of violence against women prevention practitioners, funders, researchers and activists. For over 27 years David has worked in efforts to end domestic violence and sexual assault.