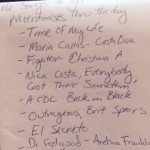 Looking through past notes, I found a list my prevention colleagues and I created to help us all get through the day. Enjoy these contributions from Abby Sims, Leona Smith Di Faustino, Sari Lipsett, and me. This is only the beginning, trust us. We hope you have the time of your life.
Woman (Oh Mama) – Joy Williams

Time of My Life (Remastered 2003) – Bill Medley & Jennifer Warnes

Love Is The Answer – Aloe Blacc

Fighter – Christina Aguilera

Everybody Got Their Something – Nikka Costa

Back in Black – ACDC

Lights – Ellie Goulding

Casta Diva – Maria Callas

El Secreto – Maya Jupiter

Kickdrum Heart – The Avett Brothers

Dr. Feelgood – Aretha Franklin

Let's Talk About Sex – Salt N Pepa

Changes – David Bowie

Pop – 'N SYNC

Glory Box – Portishead


Ashley Maier, MSW, MPA, has worked in the movement to end gendered violence for well over a decade. She began as a volunteer at a domestic violence shelter in Illinois, served as a hospital-based advocate in St. Louis, coordinated community health/family violence training programs for pediatric residents in St. Louis and San Diego, and managed Oregon's Rape Prevention and Education (RPE) grantees and program. Ashley is a contributing author to Lantern Book's 2013 publication, Defiant Daughters: 21 Women on Art, Activism, Animals, and The Sexual Politics of Meat and is creator of the 2015 book, Circles of Compassion: Connecting Issues of Justice.