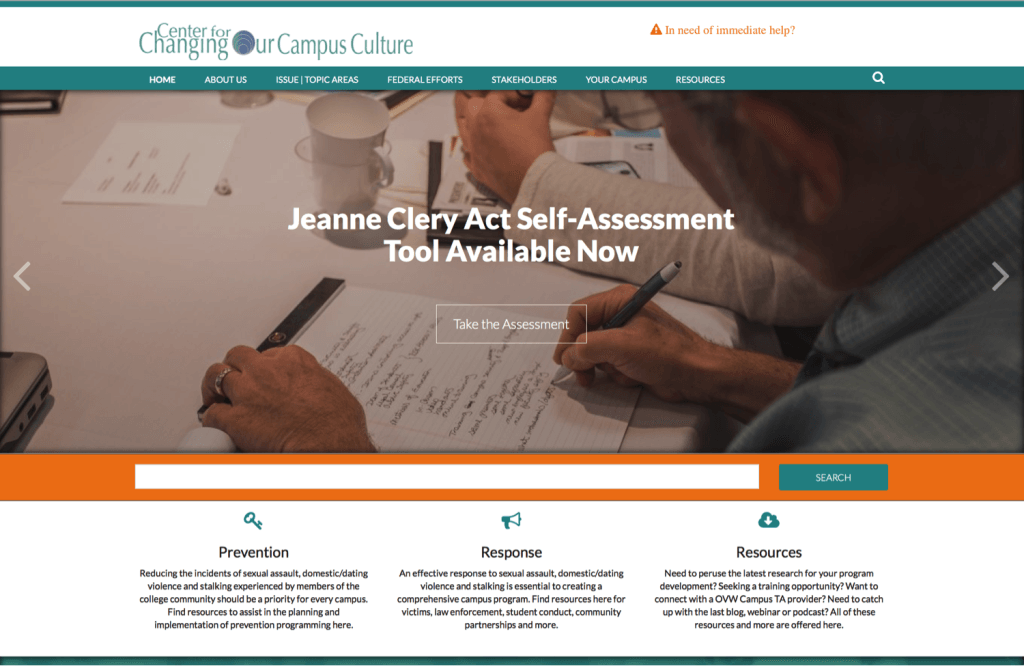 With the nation's attention focused on sexual violence on college campuses, many Federal departments are developing new resources and programs to support the effort.  For example,  PreventConnect recently presented at the Centers for Disease Control and Prevention's Think Tank and Action Planning meetings on preventing campus sexual violence.
This week the U.S. Department of Justice's Office on Violence Against Women (OVW) launched its new online resource  The Center for Changing Our Campus Culture, a comprehensive online clearinghouse on sexual assault, domestic violence, dating violence, and stalking on campus.  This website provides information, materials and resources for campus administrators, faculty and staff, as well as campus and community law enforcement, victim service providers, students, parents and other key stakeholders to use to improve campus safety.
The web site includes a section on prevention with topics such as bystander intervention, online prevention, art and theater, peer education, social norms and awareness campaigns.  Many of the resources identified on this web site are PreventConnect podcasts, web conferences and eLearning units.
In the Fall, PreventConnect will be increasing its activities to support prevention practitioners who are working on college campuses.

David S. Lee, MPH, is the Director of Prevention Services at the California Coalition Against Sexual Assault where he provides training and technical assistance on prevention. David manages the national project PreventConnect, an online community of violence against women prevention practitioners, funders, researchers and activists. For over 27 years David has worked in efforts to end domestic violence and sexual assault.