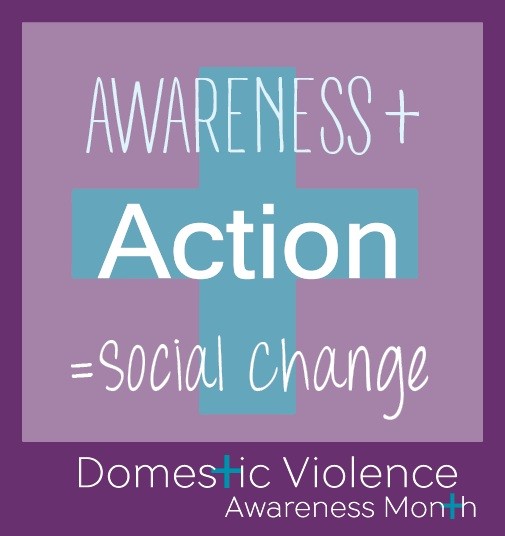 Today begins Domestic Violence Awareness Month.  Each October people throughout the country use this opportunity to raise awareness and take action to address and prevention domestic violence.
At PreventConnect we are dedicated to prevention – and the theme this year highlighting how awareness plus action equals social change provide a great framework for the important work being done to create changes in our communities toward preventing domestic violence.
I just returned from a meeting of the DELTA FOCUS grantees – a Centers for Disease Control and Prevention program in 10 states working to create prevention initiative that create community and social-level change.
Here are some activities that PreventConnect will be joining this month:
National Call of Unity: Awareness + Action = Social Change
Tuesday, October 6 at 3:00-3:45pm Eastern/12:00 – 12:45pm Pacific
Gather with fellow advocates, allies, survivors, and others working to end domestic and sexual violence to celebrate, recharge, and refocus our efforts.
Dial (877) 594–8353, passcode 924-42-288# to join the call.
RSVP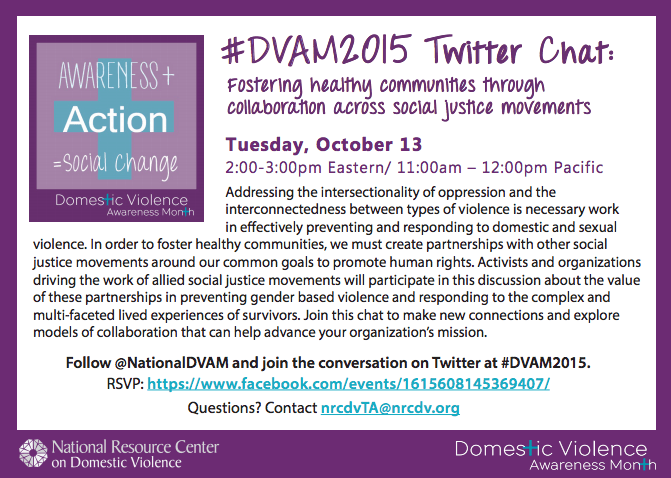 #DVAM2015 Twitter Chat: Fostering healthy communities through collaboration across social justice movements
Tuesday, October 13 at 2:00-3:00pm Eastern /11:00am – 12:00pm Pacific
Join activists and organizations driving the work of allied social justice movements in a conversation exploring the value of our partnerships in preventing and responding to gender based violence.
Follow @NationalDVAM and join the conversation on Twitter at #DVAM2015.
RSVP
Webinar: Allies in the Struggle: Intersectional work as a trauma-informed response and prevention
Wednesday, October 21 at 12:30-2:00pm Eastern/9:30 – 11:00am Pacific
Participate in a learning session for white aspiring allies interested in deepening their understanding of the connections between racial justice work and our work to end domestic and sexual violence.
Register:
Webinar: Embracing the Intersectionality of Oppressions Lens: Bringing the margins to the center
Wednesday, October 28 at 2-3:30pm Eastern/11:00am – 12:30pm Pacific
Engage in a discussion about the necessity for intersectionality in our work as we seek our collective liberation, and gain tools for developing and implementing relevant and effective programming to foster healthy communities.
Register

David S. Lee, MPH, is the Director of Prevention Services at the California Coalition Against Sexual Assault where he provides training and technical assistance on prevention. David manages the national project PreventConnect, an online community of violence against women prevention practitioners, funders, researchers and activists. For over 27 years David has worked in efforts to end domestic violence and sexual assault.