Reflections on a week ending with the mass killing in Orlando
Dear Beloved Community of people dedicated to preventing violence,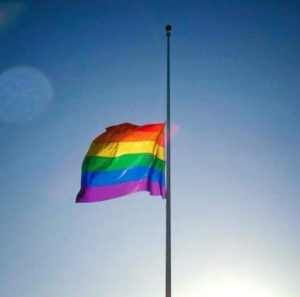 The mass killing of 50 people at a gay nightclub in Orlando culminates a week full of news about violence and news about people speaking out against such violence.
This incident reflects so many of the problems in our society including homophobia and hyper-masculinity infused with violence. And this incident will likely serve as an excuse for anti-Muslim responses.
As someone committed to preventing violence, this is the time we have to do more than condemn the violence. It is the time for us to take action to solve the violence. The solutions must go beyond creating services for victims and enhancing criminal sentences. The solution must involve changing our culture –  to create a culture of respect, responsibility and caring where all people are honored for who they are. This work goes beyond preventing sexual abuse and domestic violence – the work to prevent violence requires addressing how we are with each other every day.
Today's news today makes me sad and angry. Yet, I also see the opportunities for change. Just last week it seemed like everyone in the country was talking about the rape by the former-Stanford swimmer and having conversations about Muhammad Ali. I was encouraged seeing these conversations focus on how to envision a better world. Mohammad Ali spoke out against racism and war. When I was watching the eulogies yesterday at his memorial service, I saw a testament to Ali's ongoing struggle to end racism and unjust wars, and how he brought diverse people together in those struggles. Millions of people heard or read the letter by the survivor of the rape committed by the Stanford swimmer and Vice President Joe Biden's impassioned response calling on all us to change the culture and honor the survivor's voice ("Your story has already changed lives. You have helped change the culture."). These letters have led to constructive conversations among people throughout the country about the need to change rape culture. (I encourage you to look at John Pavlovitz's beautiful letter "To Brock Turner's Father, From Another Father" as an example.)
These conversations will continue next week. Thousands of people, including many involved in the movement to end sexual assault and domestic violence (such as PreventConnect staff), will attend the White House Summit United State of Women. I will be attending a convening other Movement Makers from NoVo Foundation's Move to End Violence initiative. We must take advantage of this upcoming opportunities to focus on the creating the solutions.
Now is the time to join together to end racism, homophobia, transphobia, rape culture, and to build a stronger beloved community of respect, safety and equity. My partners in domestic violence and sexual assault prevention have important roles to play in this work this is greater than the issues we work.  I look forward to learning with each of you on how we will take action
In sadness, support and for the purpose of love,
David