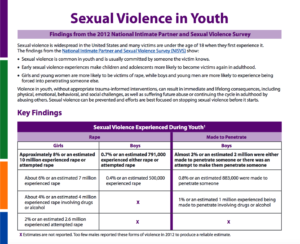 Today the CDC released a new fact sheet titled Sexual Violence in Youth. This report highlights that
Sexual violence is common in youth and is usually committed by someone the victim knows.
Early sexual violence experiences make children and adolescents more likely to become victims again in adulthood.
Girls and young women are more likely to be victims of rape, while boys and young men are more likely to experience being forced into penetrating someone else.
The report also highlights how sexual violence is preventable as it reviews the five strategies to prevent sexual violence highlighted in the recent STOP SV: Technical Package to Prevent Sexual Violence.

David S. Lee, MPH, is the Director of Prevention Services at the California Coalition Against Sexual Assault where he provides training and technical assistance on prevention. David manages the national project PreventConnect, an online community of violence against women prevention practitioners, funders, researchers and activists. For over 27 years David has worked in efforts to end domestic violence and sexual assault.