Tomorrow is the first day of October and the start of Domestic Violence Awareness Month (DVAM).  This is a time for people across the country to raise awareness about dom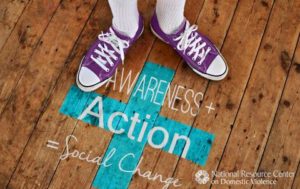 estic violence while also taking action to prevent domestic violence from happening in the first place. We know awareness alone will not create the deep social change needed to create healthy families and communities, but when action is added a greater impact can be made.
Preventing domestic violence is possible when we take intentional action to collaborate across social justice movements. Domestic violence intersects with all forms of oppression and our efforts to prevent domestic violence must reflect that. The 2016 season of PreventConnect web conferences was dedicated to the need to collaborate with other movements to create community and society level change and DVAM is an opportunity to further these discussions.
Throughout the month, the National Resource Center on Domestic Violence will be hosting a variety of activities to get involved in:
Throughout October
Follow @NationalDVAM and join the conversation on Twitter and Facebook at #DVAM2016 #ThisIsDV
National Call of Unity: Healing the Heart of the Movement
Tuesday, October 4th at 3:00 pm-3:45 pm Eastern / 12:00-12:45 pm Pacific
Dial (877) 594-8353, passcode 924-42-288# to join the call
Webinar: Keeping Your Cup Full: Self-Care is Essential to Trauma Informed Advocacy
Tuesday, October 11 at 3:00-4:30 pm Eastern / 12:00-1:30 pm Pacific
Register: https://bwjp.ilinc.com/register/httykmp
#WhyICare Campaign & Twitter Chat
Tuesday, Octobter 18th at 3 pm Eastern
Follow @NationalDVAM and join the conversation on Twitter at #DVAM2016 #WhyICare
Webinar: Girls for Gender Equity: Centering girls of Color within the Racial and Gender Justice Movement of the 21st Century
Tuesday, October 25 at 3:00-4;30 pm Eastern / 12:00-1:30 pm Pacific
Register: https://bwjp.ilinc.com/register/kfctzjm