ThisGEN Youth Summit concludes with Rally and Call to Action!
Raliance's ThisGEN: Youth Summit in Washington, D.C. concluded today after four action-packed days of critical workshops, seminars, activities and visits with policy leaders. ThisGEN signifies new beginnings with a shared vision and common goal: to end gender-based violence in this generation!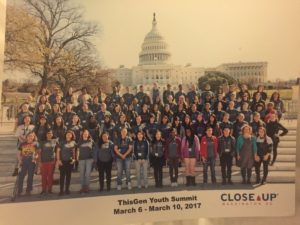 Over the course of the week, ThisGEN attendees  marched to Capitol Hill and also visited media avenues such as NBC to learn about the role of youth activists in engaging with media to create and pitch stories! The diverse backgrounds and unique experiences of these young activists did not deter them from identifying and finding ways to prevent and end gender-based violence in one generation… starting from their generation! In fact, their enthusiasm, optimism and passion to serve as youth activists, leaders and stakeholders in their communities is what will keep this intersectional social justice momentum going on!
Here are some examples of powerful activities ThisGEN will participate in going forward to end GBV:
They will take the @ItsOnUs pledge: itsonus.org/#pledge
They will support challenging bias and inequity and promise to campaign against violence #BeBoldForChange
They will become @ThatsNotCool ambassadors to raise awareness of digital dating abuse!
They will advocate for the Department of Education's Title IX Guidance that protects sexual violence survivors and transgender students
They will participate in the @ItsOnUs Week of Action and International Anti-Street Harassment Week #EndSH from April 2-8!
They will participate in the #SAAM Day of Action on April 4
A huge round of applause to the youth leaders and advocates for their time, efforts and dedication and for sharing their vision with others to continue building this youth-led movement to end gender-based violence. We must continue to realize the significant impact of engaging and involving youth as agents of social change, stakeholders, allies and leaders to end sexual and domestic violence and other forms of intersectional oppression. 
Only through collaborations, partnerships and community organizing, can we work towards the collective momentum to end gender-based violence.