ThisGEN Youth Summit kicks off in Washington, D.C.
Today youth leaders and activists from across the country will gather in Washington, D.C. for Raliance's ThisGEN: Youth Summit. Over the next five days these leaders will build a collective momentum to end gender-based violence through participation in workshops, activities, and seminars.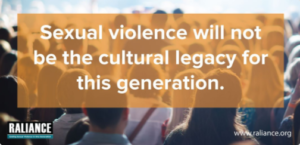 ThisGEN attendees will also hear from a diverse group of presenters including Amita Swadhin, Angela Rose of PAVE, Tracy Wright of the North Carolina Coalition Against Sexual Assault (NCCASA), and Troy Vincent of the National Football League (NFL). A full list of presenters is available here.
Be a part of ThisGEN on social media using #ThisGENWill and #ThisGEN_YS. PreventConnect will be highlighting the 3 different workshop tracks and the closing rally throughout the week so be sure to check back for more!
For more information on ThisGEN, read the press release here.