New Connecting the Dots online training from CDC
A new online training released by the Centers for Disease Control and Prevention (CDC) explores  shared risk and protective factors across multiple forms of violence. The Connecting the Dots training uses video and text to help users understand how different forms of violence are connected through shared root causes and how to address community context when developing prevention strategies.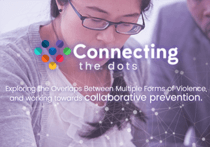 Many prevention practitioners have used CDC's Connecting the Dots: An Overview of the Links Among Multiple Forms of Violence and Preventing Multiple Forms of Violence: A Strategic Vision for Connecting the Dots to inform prevention strategies and to build community partnerships. This online training provides another opportunity to understand the connections between multiple forms of violence and to think creatively and strategically about coordinated strategies, activities, and resources to prevent violence before it starts. 
View the Connecting the Dots training here and visit Notes from the Field to learn how some states are working to prevent violence through a shared risk and protective factor approach.