Launching Thursday: National Plan to End Gender-Based Violence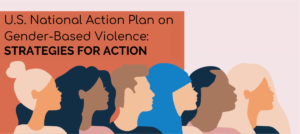 The White House Gender Policy Council will release the U.S. National Action Plan to End Gender-Based Violence: Strategies for Action on Thursday, May 25 and will host a livestream. 
This first-ever National Action Plan advances an unprecedented and comprehensive approach to preventing and addressing sexual violence, intimate partner violence, stalking, and other forms of gender-based violence (referred to collectively as GBV).
The White House Gender Policy Council will be hosting a launch event that will include two roundtable discussions. During the first roundtable, leaders from key federal agencies will highlight the role of their agencies in strengthening ongoing federal action and interagency collaboration to advance the goals of the National Plan through a whole-of-government approach. During the second roundtable, survivors, advocates, and other leaders from civil society, including community-based organizations and private sector organizations, will discuss the importance of mobilizing a whole of society approach to prevent and address GBV.
The National Action Plan Livestream is free and open for anyone to attend. 
In 2021, PreventConnect hosted a listening session, where prevention practitioners had the opportunity to educate policymakers about the needs for prevention to help inform the National Action Plan. Attendees spoke about the crucial need for prevention, not just intervention.
Read the summary of the listening session, here. 
Watch the recording of the listening session, here. 
The U.S. National Action Plan on Gender-Based Violence comes from President Biden's Executive Order on Establishment of the White House Gender Policy Council. Many other countries already have national action plans on gender-based violence, and the United Nations has a handbook for national action plans on violence against women. Some countries have had multiple plans, such as Australia's fourth national action plan on gender-based violence where primary prevention is listed as the first National Priority.