Sex Ed for All Month: Resources for Practitioners
In honor of Sex Ed for All Month, the Sex Education Collaborative released free toolkit for organizations interested in promoting and advocating for sexual health education in their communities.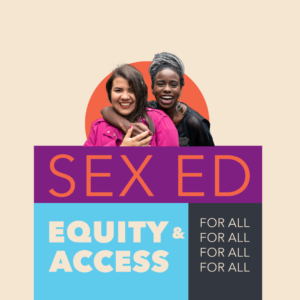 The toolkit expands on the free resources  offered in 2022, with tailored guides to help organizations, parents and students navigate landscapes around sexual health education. across the country. The 2023 guide includes: 
Social Media Graphics
News release templates
Email templates
Talking Points
A downloadable guide for parents who want to advocate for comprehensive sex education
Sex Ed For All Month is coordinated by the Sex Education Collaborative in collaboration with a national coalition of sexual and reproductive health, rights, and justice organizations committed to ensuring equitable and accessible sex education for ALL young people nationwide.
For those of us working in sexual violence prevention, comprehensive sexual health education can serve as an excellent tool to sexual and intimate partner violence. In many cases, age-appropriate and medically accurate sexual health curriculum shares the same core tenants of violence prevention (i.e. teaching bodily autonomy, deconstructing harmful gender roles, building skills around healthy relationship communication, etc.)
Sexual health educators and violence preventionists also share similar challenges navigating school climates, whether that is educating around misconceptions about what we teach, working with school administration and staff, or pushback to topics like sex and LGBTQ+ inclusion. 
With so many societal and communal factors working against school-based prevention, more preventionists and sexual health educators are recognizing opportunities to work together to build relationships and strengthen each other's work.
Below are several tools and resources to help build your toolkit around understanding and advocating for comprehensive sexual health education:
Comprehensive Sexuality Education Toolkit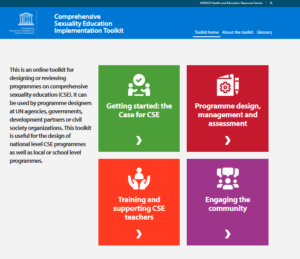 This toolkit, designed by UNESCO, breaks down what Comprehensive Sexuality Education (CSE) is and is not, what components are requires for sexual health curriculum to be considered "comprehensive" and clearly states where sexual violence prevention fits into curriculum. While it was designed for officers at UNESCO field offices who are tasked with providing technical support for CSE programmes, it can also be used for staff of civil society organizations, local area governments, or school authorities that want to design or review CSE programmes.
Read the toolkit here.
______________________________________________________________________________________
Sex Ed for Social Chance (SIECUS) State Profiles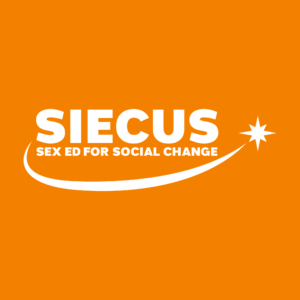 The SIECUS State Profiles provides an in-depth and up-to-date look at the state of sex education in all 50 states, the District of Columbia, Puerto Rico, and the outer United States territories and associated states. 
The profiles include an overview of each state's current sex education laws, policies, and guidelines, newly introduced legislation, and relevant action that advocates have taken to advance or defend sex education in their communities. This report also incorporates the Centers for Disease Control and Prevention's School Health Profiles data to help paint a comprehensive picture of what sexual health education topics are, or are not, being taught to young people in the classroom.
Find the interactive profile and downloadable brief here. 
SIECUS also maintains a library of publications around education mandates and history here. 
______________________________________________________________________________________
School-Based Prevention Roadmap, from Ohio Alliance to End Sexual Violence and the Florida Council Against Sexual Violence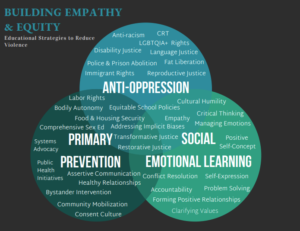 This toolkit explains where sexual violence prevention and anti-oppressive frameworks overlap in school-based education, and how preventionists can navigate school-systems and pushback. It explains critical race theory, social-emotional learning, primary prevention and anti-oppression, debunks myths around each framework and provides a path forward for preventionists facing pushback in schools.
Read the toolkit here.
Listen to our podcast about the toolkit here. 
_______________________________________________________________________________________
Podcast Series on Sexual Health Education and Violence Prevention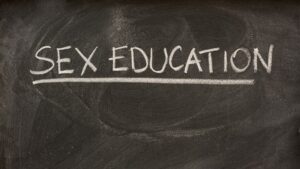 In this two-part PreventConnect podcast, Violence Prevention Practitioner Sarah Diamond, from Center for Community Solutions, about the importance of incorporating comprehensive sex education into sexual assault prevention efforts, the nuances of consent and specific ways prevention practitioners can include sexual health promotion into sexual assault prevention efforts.
Listen to part 1 here.
Listen to part 2 here.