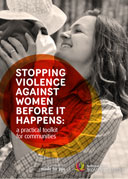 I agree that in order to prevent sexual violence and domestic violence we need to "…focus on the community as the driving force for changing societal attitudes." This concept is made real in the new toolkit Stopping Violence Against Women Before It Starts: A Practical Toolkit for Communities that consists of 15 factsheets including practical ideas and resources for community action. While it is designed for rural communities, anyone interested in prevention will find it to be a useful resource.
This toolkit was developed in Australia by the National Rural Women's Coalition (NRWC), Australian Women Against Violence Alliance (AWAVA) and Queensland's Centre for Domestic and Family Violence Research (CDFVR).
Check it out here.
David S. Lee, MPH, is the Director of Prevention Services at the California Coalition Against Sexual Assault where he provides training and technical assistance on prevention. David manages the national project PreventConnect, an online community of violence against women prevention practitioners, funders, researchers and activists. For over 27 years David has worked in efforts to end domestic violence and sexual assault.