Social and Economic Costs of Violence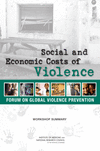 Today the Institute of Medicine released a workshop summary on the Social and Economic Cost of Violence. On April 28-29, 2011, the IOM's Forum on Global Violence Prevention held a workshop to evaluate the social and economic costs of violence.
Understanding the costs of violence are important to build the case for prevention. (See the PreventConnect web conference on Cost-Effectiveness of Sexual and Domestic Violence Prevention.)
Here is the summary of the costs of sexual violence:
The estimates vary widely, depending on the cost categories included and methods used. For example, Cohen (1988), using pain and suffering awards from more than 100,000 jury decisions in the United States, calculated that the annual aggregate direct and indirect costs of rape were $14.9 billion—equivalent to 0.2 percent of GDP.

In contrast, the U.S. Department of Justice (1994) calculated the economic losses of rape as $33 million, based on reported direct medical costs and lost earnings, though this estimate did not include psychological costs. For costs at the level of individual rape victims, Miller et al.(1993) used the NCVS to calculate a total cost of $85,000 per rape.
The summary concludes with a section on investing in prevention. Articles include one on the "Value of Prevention" by Rachel Davis of the Prevention Institute and one on the Communities that Care model.
Click here to download the report for free.  In September, IOM also released a workshop summary on Preventing Violence Against Women and Children.