DELTA PREP National Prevention Symposium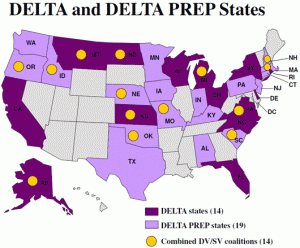 Over the last several years, DELTA PREP is a a national collaborative effort funded by the Robert Wood Johnson Foundation and CDC Foundation to support nineteen domestic violence state coalitions to build their capacity for primary prevention.  This effort is culminating with a National Prevention Symposium this week in Atlanta, GA.
DELTA PREP has been summarized in this project summary describing efforts from the nineteen DELTA PREP grantees.  Last December, PreventConnect released six podcasts from DELTA PREP. This month we have two additional podcasts describing efforts to prevent domestic violence.