New report available on California's capacity for sexual violence prevention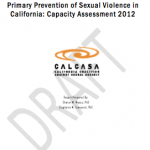 In March 2012, the California Coalition Against Sexual Assault (CALCASA), with support from the California Department of Public Health (CDPH), conducted an assessment of sexual violence primary prevention capacity in California by surveying Prevention Coordinators and Executive Directors of agencies funded by CDPH's Rape Prevention and Education (RPE) Program.  The goal was to learn more about prevention efforts across the state to learn more about the successes and challenges that we face in offering primary prevention strategies to our local communities. CALCASA is excited to announce that a draft of the full report is now available!
Two highlights of this assessment:
– California has a strong capacity for primary prevention of sexual violence, particularly in using a range of comprehensive prevention strategies. Additionally, rape crisis center prevention programs are utilizing a wide array of primary prevention strategies and are moving away from risk reduction activities and moving towards shifting rape culture and stopping rape before it occurs. Rape crisis center prevention programs are also providing multi-session prevention presentations in order to facilitate behavioral change for participants.

– Resources for primary prevention of sexual violence – including full-time employees, volunteers and percent of budgets allocated to prevention – remain quite limited. Rape crisis centers need to integrate primary prevention throughout their agency framework to strengthen organizational capacity to offer prevention programming.
To learn more, read a draft of the full Primary Prevention Capacity Assessment 2012!