The key to change? The feminist movement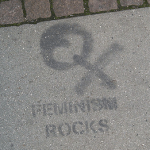 Recently published in the American Political Science Review, a new study onviolence against women conducted over four decades and in 70 countries reveals the mobilization of feminist movements is more important for change than the wealth of nations, left-wing political parties, or the number of women politicians. (SF Gate)
What does this mean? We have proof that being a part of the feminist movement means you are part of something dynamic, influential, and essential, and something that is more powerful than traditionally credited for. The feminist movements shared common themes:
… in feminist movements that were autonomous from political parties and the state, women were able to articulate and organize around their top priorities as women, without having to answer to broader organizational concerns or mens' needs. (SF Gate)
What helps and inhibits your work as a member of the feminist movement?
Photo credit: Kristjan Wager, http://www.flickr.com/photos/kriswager/2836495838