A 45 year follow-up study on child sexual abuse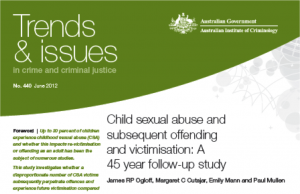 The December 2012 edition of NEARI News highlights a recent study, Child sexual abuse and subsequent offending and victimisation: A 45 year follow-up study, published in the journal Trends and Issues in Crime and Criminal Justice. In this study researchers followed 2,759 child sexual abuse victims for a period ranging from 13 to 44 years giving us a valuable understanding of the long-term effects of child sexual abuse.
Joan Tabachnick, David Prescott and Steven Bengis of NEARI Press summarize the research:
The research clearly states that most children who are victimized by sexual abuse do not go on to sexually abuse others. However, the research findings did suggest that sexual victimization in boys over age 12 may be an important risk factor for this population.
For prevention,  the NEARI News documents recommends universal education, especially for boys over twelve should be considered as an important prevention strategy.
See the entire edition of the December 2012 NEARI News for more detailed analysis of the study.  A full citation and abstract of the study are included below.
James RP Ogloff, Margaret C Cutajar, Emily Mann and Paul Mullen, Child sexual abuse and subsequent offending and victimisation: A 45 year follow-up study, Trends & issues in crime and criminal justice,  no.440, Canberra: Australian Institute of Criminology, June 2012. Full text available at no cost here.

Abstract: Up to 30 percent of children experience childhood sexual abuse (CSA) and whether this impacts re-victimisation or offending as an adult has been the subject of numerous studies.

This study investigates whether a disproportionate number of CSA victims subsequently perpetrate offences and experience future victimisation compared with people who have not been sexually abused. In a sample of 2,759 CSA victims who were abused between 1964 and 1995, it was found CSA victims were almost five times more likely than the general population to be charged with any offence than their non-abused counterparts, with strongest associations found for sexual and violent offences. CSA victims were also more likely to have been victims of crime, particularly crimes of a sexual or violent nature.

This research highlights the need for therapeutic interventions targeted at adolescent male CSA victims, particularly with regard to offender treatment programs, where many programs currently do not allow for exploration of offenders' own sexual victimisation.