Opportunity to join the PreventConnect/CALCASA Prevention Team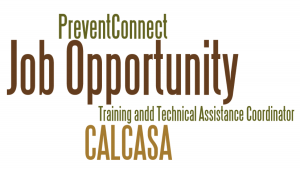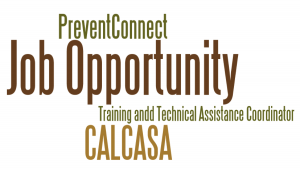 The California Coalition Against Sexual Assault is looking for someone to join our prevention team. Projects include providing training and technical assistance to California's Rape Prevention & Education grantees, researching for and developing resources for the national PreventConnect online community and working on the National Sexual Assault Conference to be held August 28-30, 2013 in Hollywood, California.
CALCASA is hiring for a new Training and Technical Assistance Coordinator based in our Sacramento office. Please submit a letter of interest, resume and three references by March 22, 2013. Click here for the full job description and instructions on how to apply.
This is a great opportunity to be part of a team dedicated to advancing prevention in California and the nation.