Time to talk about building a movement to end violence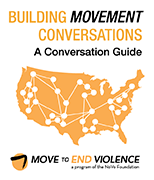 It was the movement that first inspired me in my work to prevent sexual violence and domestic violence. I looked to the grassroots leaders who demonstrated courage and determination to create a world without violence against women and girls.  From them I understood that through using our imagination and doing hard work, we can create change.
At that time I did not think that sexual violence and domestic prevention would create professional opportunities and have an funded infrastructure.  My commitment was driven because I thought that together we can change society for the better. My commitment was reinforced by the conversations I had with my peers in the movement. By talking with others we supported each other to take action.
Thirty years later, I see many changes in our society regarding sexual violence and domestic violence.  While there still a lot of work to do, I attribute the successes so far to the movement of women and men working hard to create changes in policies, passage of laws, and shifts within the popular culture.
Yet, today I have to reexamine where I am and where the movement is. Now we have jobs, government funding, and decades of changes behind us. However, talk about "real rape", Steubenville,, and New Dehli remind me that we need to push further to make more changes. And I believe that we need a vigorous movement to lead the way.
This week, Move to End Violence, a 10-year initiative designed to strengthen our collective capacity to end violence against girls and women in the United States, issued a call for conversations about our role in the movement:
Our intentions are to build critical mass; catalyze a rich, nationwide conversation; foster alignment; and move forward together as a reinvigorated movement to end violence against girls and women in the United States.
Move to End Violence is asking us to partner with them to hold Building Movement Conversations.  Use the Conversation Guide to hold a Building Movement conversation (or conversations) with others in your organization or community. Then share with Move to End Violence how it went by going to their website and filling out a survey about your conversation. The Conversation Guide is also available in Spanish.
Move to End Violence is committed to turn around the learnings on how to advance this vision for the work to end violence against girls and women. PreventConnect will continue to play a role to support these conversations and sharing the lessons learned. Learn more about Move to End Violence in this PreventConnect podcast.
Who are you going to have a conversation with about the movement to end domestic violence and sexual violence?