Re-painting a bleak picture: The high school class of 2013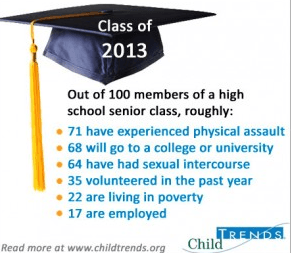 Child Trends, a non-profit research center, has just released a report on the high school class of 2013. The report draws on research findings to paint a picture of a hypothetical senior class of 100 students. The picture reveals a strong need for prevention.
Among this hypothetical class of 100 seniors:
71 have experienced physical assault; 28 have been victimized sexually; 32 have experienced some form of child maltreatment.
53 have parents who say their neighborhood is "always safe."
39 have ever been bullied, physically or emotionally; 16 have been bullied in the past year.
21 had a sexually transmitted infection in the past year.
16 carried a weapon in the past year.
10 report they were victims of dating violence in the past year.
10 report they have been raped.
6 were victims of hate speech during the past six months.
3 were victims of violent crime in the past year.
And that's just the tip of the iceberg. The report reveals even more social determinants of health that paint a very disturbing picture for the health and well-being of this nation's youth…and that impacts us all.
So what can we do with this report? Not only can we use these data to make the case for prevention, but we can also use it to envision a healthy future for our youth.  Let's ask what this picture would look like with strong, effective violence prevention and health promotion strategies shaping it.  How about instead of 28 of these students having been victimized sexually, we create a climate in which 28 are engaged and active in countering rape culture in their community? How about instead of 21 of these students having sexually transmitted diseases, 21 become leaders in promoting healthy sexuality among their peers?
This hypothetical class is certainly a very bleak picture, but we can repaint it. We have the tools.  Just listen to any podcast or watch any web conference about the amazing work that's happening in our prevention communities. This is just one more report that validates the work we do and the world we want to create.
Onward!