New social media report shows Facebook still reigns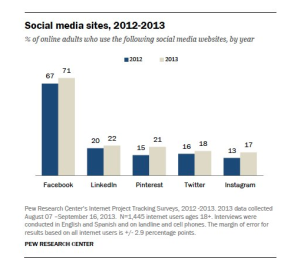 It looks like Facebook is still the reigning champion of the social media world.  Continuing their history of keeping us updated on social media usage, the PEW Research Center's Internet Project just released their 2013 Social Media Update.  Key findings include:
73% of online adults use social networking sites
Facebook remains the dominant social networking platform
Facebook and Instagram have especially high levels of user engagement
42% of online adults use multiple social networking platforms
While no one is surprised to see Facebook's continued social media domination, it is interesting to note the increase in use (per this report) from 2012 to 2013.  But that should not take away from the fact that, as the report points out, other sites have "developed their own unique demographic profiles."  For example, PEW reports the following as the most popular sites for the below audiences:
Pinterest – women
LinkedIn – college graduates and higher income households
Twitter and Instagram  – younger users, urban dwellers, non-whites*
As social media platforms and audiences change by the minute (there is probably another report coming soon!), these types of reports can help us stay up to date and relevant as we use social media tools in our prevention work.  So, why are you using a particular social media tool?  As you consider that question, read the full PEW Center report here, read more about social media here, and take a short eLearning course about it here.
*Term used in the PEW report.