Why Prevention? Why Now?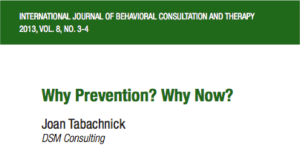 They say timing is everything, so I took it as a sign when I received a link to this article from a colleague this morning. The article, entitled "Why Prevention? Why now?" explores the growing public awareness and media coverage sexual violence and its destructive effects on individuals, relationships and communities. As this awareness grows, so does public recognition of the importance of prevention.
The article provides an informative and accessable overview of sexual violence prevention and response, including a discussion of public health approaches and prevention activities across the social-ecological model.
The framing of the article resonated with me because so much of our prevention work involves asking questions; questions of our communities and our systems, historical questions, research questions, ethical questions, and questions of ourselves.
Last week, CALCASA conducted a web conference entitled, "Primary Prevention: Bringing It All Together" Part of the web conference posed the following questions to consider when planning and developing RPE programs:
Is it sexual violence primary prevention?
Is it appropriate and relevant to the community in which it will be implemented?
Will it work?
Can you do it?
If I had it to do over again, I would add two more questions. Why Prevention? Why now?
Full abstract:
In 1995, the American Medical Association declared sexual abuse a "silent, violent epidemic." Since that declaration, there has been a growing acceptance and awareness of the need for a broader public health approach to preventing sexual violence. However, it is only recently that individuals and organizations are beginning to look at the root causes of sexual violence and how to prevent first time perpetration of sexual violence – preventing sexual abuse before anyone is harmed. This article provides an overview of the shifts in our language, perspective, and policies regarding how we view preventing the perpetration of sexual abuse, and argues that we must adopt and invest in a prevention approach whose goal is to, first and foremost, prevent sexual violence before anyone is harmed.
Full citation:
Tabachnick, J. Why Prevention? Why now?. INTERNATIONAL JOURNAL OF BEHAVIORAL CONSULTATION AND THERAPY, VOL. 8, No. 3-4