Ray Rice, the NFL and the potential to prevent domestic and sexual violence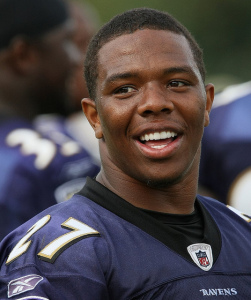 Domestic violence has been in the headlines in the last several weeks with Ray Rice's videotaped attack of his then-fiancée in an elevator, the NFL's continued mishandling of the case, and countless blogs, sports columns and opinion pieces drawing attention to domestic violence.
I think this event signals a potential shift in our opportunities to advance efforts to prevent domestic and sexual violence. Well, actually, it signals another potential shift since we have been here before many time – a prominent football player committing a violent act and there is a national discussion. For example, twenty years ago the reaction to OJ Simpson's violence contributed toward the passage of the Violence Against Women Act.
In the San Francisco Bay area the Ray Rice case has drawn more attention to how 49er football team addresses domestic violence. The 49er's response is troubling –49er defensive tackle Ray MacDonald is still playing after his domestic violence arrest while the team claims to have zero tolerance for domestic violence. San Francisco Chronicle Sports Columnist Ann Killion questions the 49er commitment to the Zero Tolerance given their history of hiring players who have histories of violence.
But the 49er are willing to suspend their radio announcer Ted Robinson for saying that Janey Rice bore some responsibility in this case. Of course, the loss of a radio announcer will not affect the 49ers on the field. Then I looked at Robinson's apology:
"I want to unconditionally apologize for my comments the other day. As a professional communicator, I am responsible for my words. My choice of words was careless and does not reflect my true feelings about domestic violence. I understand that the cycle of abuse keeps people in unhealthy relationships. No blame or responsibility for domestic violence should ever be placed on a victim."
While troubling victim-blaming and inaccurate messages are still heard, the national discussion also includes accurate information, suggestions to re-examine gender roles that contribute to domestic violence, and demands that institutions have policies that are enforced that actually make a difference. That is what prevention looks like.
This is the opportunity, once again, to further our work to prevent domestic and sexual violence.
Photo from Flickr. Keith Allison