School Staff's Role in Preventing Bullying and Sexual Harassment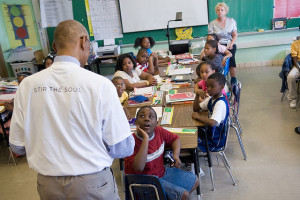 A big area of interest in research over the past few years has been how school climate, and particularly school staff, can influence bullying and sexual harassment. A recent study by Dorothy Espelage, Joshua Polanin, and Sabina Low adds to this body of research by looking at the connections between student reports related to bullying and teachers', staff's, and administrators' perceptions. The study used a wide variety of questions to measure students' and adults' perceptions of middle schools' climates, including likelihood of student intervention, likelihood of staff intervention, perceptions of aggression as a problem at their school, the school's commitment to bullying prevention, positive teacher-staff-student interactions, and gender equity or intolerance of sexual harassment.
Overall, the study found that adults' perceptions corresponded well to students' perceptions. For example, when staff was perceived as likely to intervene to help victimized youth, students reported greater willingness to intervene in similar situations themselves. This is a great example of how the school climate and community can create norms to help prevent bullying, and specifically how important adults' role is in building these norms. Teachers and administrators who take action to support prevention can have a big impact.
Importantly, the study also showed an association between staff reporting higher levels of gender equity and intolerance of sexual harassment, and students reporting lower bullying, lower bullying victimization, lower aggression, and higher willingness for students to intervene. It's not really clear how the relationship between bullying, gender equity, and sexual harassment works, but this is yet another study showing that there is some sort of link. Reducing bullying seems to be an important way to affect sexual violence risk factors and sexual harassment, especially during early adolescence.
Full citation: Espelage, D. L., Polanin, J. R., & Low, S. K. (2014). Teacher and staff perceptions of school environment as predictors of student aggression, victimization, and willingness to intervene in bullying situations. School Psychology Quarterly. Advance online publication. doi: 10.1037/spq0000072
Link: http://www.ncbi.nlm.nih.gov/pubmed/25089334 
Full abstract: This study examines how teacher and staff perceptions of the school environment correlate with student self-reports of bullying, aggression, victimization, and willingness to intervene in bullying incidents using multi-informant, multilevel modeling. Data were derived from 3,616 6th grade students across 36 middle schools in the Midwest, who completed survey measures of bullying, aggression, victimization, and willingness to intervene in bullying situations. Teachers and staff (n = 1,447) completed a school environment survey. Bivariate associations between school-level and student self-reports indicated that as teacher and staff perceive aggression as a problem in their school, students reported greater bully perpetration, fighting, peer victimization, and less willingness to intervene. Further, as staff and teacher report greater commitment to prevent bullying and viewed positive teacher and student relationships, there was less bullying, fighting, and peer victimization, and greater willingness to intervene. In a model where all school environment scales were entered together, a school commitment to prevent bullying was associated with less bullying, fighting, and peer victimization. Student-reports of bully perpetration and peer victimization were largely explained by staff and teacher commitment to bully prevention, whereas fighting and willingness to intervene were largely explained by student characteristics (e.g., gender). We conclude that efforts to address bullying and victimization should involve support from the school administration. School psychologists should play an active role in the school climate improvement process, by creating a school climate council consisting of students, parents, and teachers; administering school climate measures; identifying specific school improvement targets from these data, and engaging all stakeholders in the ongoing school improvement plan.