National Scan of Sexual Prevention Efforts on College Campus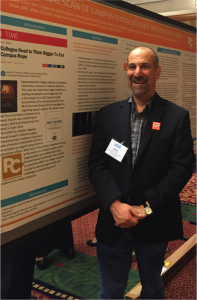 At the 2015 State States Alliance Annual Meeting, I presented a poster highlighting the work of PreventConnect examining key issues, trends, opportunities and challenges for sexual violence prevention of college campuses.  Since it was also Denim Day, I wore my jeans (and a jacket).
While most of the nation's discussion about sexual assault on college campus revolves about how to respond to cases, it is more evident than ever that primary prevention efforts are necessary to shift the norms and culture to prevent sexual violence.
Next week, I will join over 30 people at the Centers for Disease Control and Prevention's Think Tank about prevention efforts.  I will be sharing some of the findings of this scan in upcoming blog posts.