#TheHuntingGround Twitter chat to prepare for national screening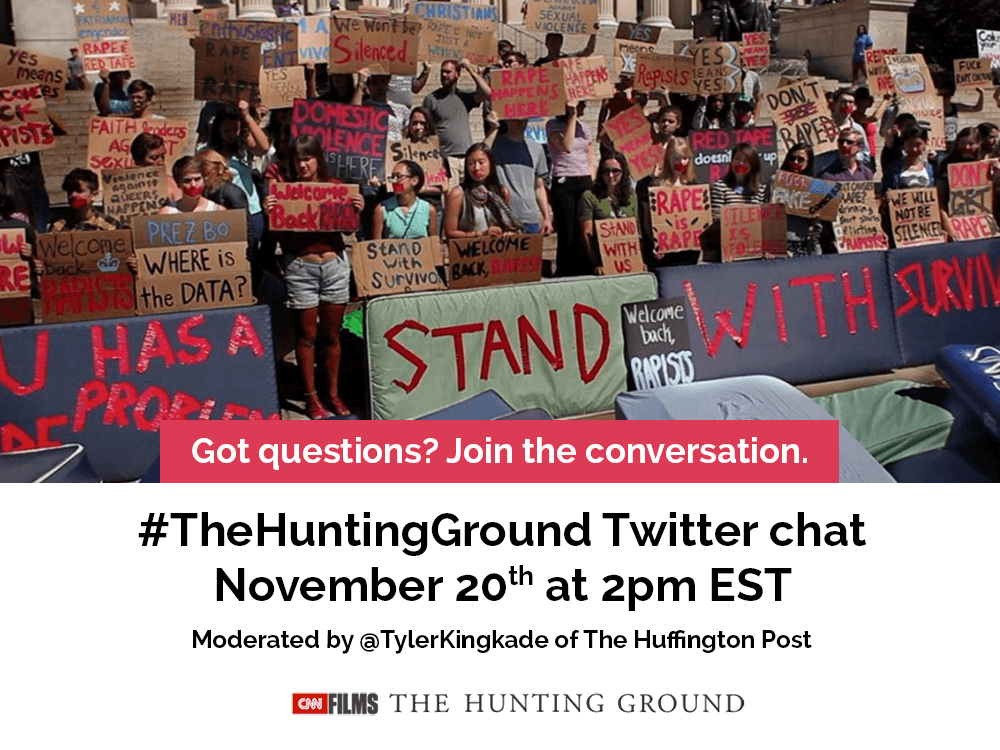 The documentary film The Hunting Ground will be airing on CNN on Sunday, November 22, 2015 at 8pm.  When I first saw this film, I said it "will be an important catalyst for action to support efforts toward preventing sexual violence."  That has proven true in the last year as this film has been shown in theaters, at college campuses and during conferences prompting action toward preventing sexual violence.
To prepare this this national screening, PreventConnect (as part of CALCASA) will be among the expert panel joining #TheHuntingGround Twitter chat on Friday, November 20th at 11am PST/2pm EST. Tyler Kingkade (@tylerkingkade) from The Huffington Post will be moderating the conversation between a panel of experts ranging from violence prevention organizations to student advocates.
Another important resources is T
he Hunting Ground Action Toolkit to help discussions afterward. (I was a reviewer for this toolkit along with other CALCASA staff).
At PreventConnect we are committed to build trauma-informed approaches to address sexual violence on college campuses, support collaborative efforts to create change, and using comprehensive approaches to prevention.
Check out PreventConnect Campus that will focus on addressing the prevention of sexual violence, domestic violence and dating violence on college and university campuses, based on current research, experience and context. Developed as an online resource for prevention practitioners working on campuses and community-based practitioners partnering with campuses, PreventConnect Campus offers a growing national community of campus prevention practitioners, web conferences, eLearning, podcasts and more.